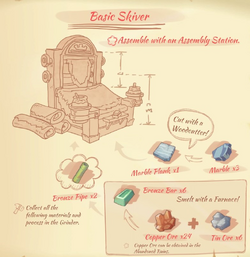 Power Stones are used as fuel for this machine.
Description
Edit
Used for processing leather and fur into fabric.
Obtaining
Edit
Assembly Station

Assembly Station
Project
Materials

Basic Skiver


Basic Skiver

Marble Plank


1 Marble Plank

Bronze Pipe


2 Bronze Pipe
The Basic Skiver can be donated to the Museum as a Medium Assembled Item. When donated, it gives:


Reputation +10.