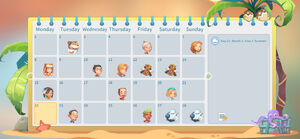 The calendar is a chart displaying the number of days, weeks, and months of a year, showcasing any event that may occur during a particular day. There are four months of each year; each month corresponds to a season - spring, summer, autumn, and winter - and contains 28 days each. There are four weeks and seven days to make up a week; the seven days are as follows: Monday, Tuesday, Wednesday, Thursday, Friday, Saturday, and Sunday. After four months, the calendar cycles to the next year, starting back to the first month of the year.
The format for labeling the game time can be written in two different ways: a simplistic version and a formal version. The simplistic version is written as month.day (day of the week), for example, "2.6 Saturday" for month 2, day 6, Saturday. The formal version is written as Day, Month, Year, for example" Day 6, Month 2, Year 1.
Birthdays
Edit
Birthdays are the anniversary of a day in which a character was born, occurring once a year. During one's birthday, gifting an item to the character usually will yield a higher or lower relationship value, as he or she will react greatly to it. After reaching one full relationship star or heart, a character's birthday will be displayed on the calendar, indicated by the character's facial portrait on the calendar.

Notes can be added to each individual calendar day. To input a note onto the calendar, an icon resembling a notepad is found on the bottom right of the calendar page. These notes can serve as an event reminder, capable of reminding the player of an upcoming event, such as a fireside meeting. A time can be added to help remind the player of the event, which is formatted in 24-hour. In the event the player no longer needs the reminder, the reminder can be deleted.
season spring

Spring CalendarEdit
Spring is the first season of the year. Notable events include the Day of the Bright Sun festival that occurs on the 19th day of the month.
| Monday | Tuesday | Wednesday | Thursday | Friday | Saturday | Sunday |
| --- | --- | --- | --- | --- | --- | --- |
| 1 | 2 | 3 | 4 | 5 | 6 | 7 |
| 8 | 9 | 10 | 11 | 12 | 13 | 14 |
| 15 | 16 | 17 | 18 | 19 | 20 | 21 |
| 22 | 23 | 24 | 25 | 26 | 27 | 28 |
| Day | Image | Event | Description |
| --- | --- | --- | --- |
| Friday, Day 19 | | Day of the Bright Sun | A festival that revolves around giving gifts to the city and dropping them from an airship. The townsfolk can compete with each other by grabbing and claiming the gifts first. Prior to the festival, the townsfolk can give the mayor the gifts, who can then organize the event on the day. |
season summer

Summer CalendarEdit
| Monday | Tuesday | Wednesday | Thursday | Friday | Saturday | Sunday |
| --- | --- | --- | --- | --- | --- | --- |
| 1 | 2 | 3 | 4 | 5 | 6 | 7 |
| 8 | 9 | 10 | 11 | 12 | 13 | 14 |
| 15 | 16 | 17 | 18 | 19 | 20 | 21 |
| 22 | 23 | 24 | 25 | 26 | 27 | 28 |
season autumn

Autumn CalendarEdit
| Monday | Tuesday | Wednesday | Thursday | Friday | Saturday | Sunday |
| --- | --- | --- | --- | --- | --- | --- |
| 1 | 2 | 3 | 4 | 5 | 6 | 7 |
| 8 | 9 | 10 | 11 | 12 | 13 | 14 |
| 15 | 16 | 17 | 18 | 19 | 20 | 21 |
| 22 | 23 | 24 | 25 | 26 | 27 | 28 |
season winter

Winter CalendarEdit
| Monday | Tuesday | Wednesday | Thursday | Friday | Saturday | Sunday |
| --- | --- | --- | --- | --- | --- | --- |
| 1 | 2 | 3 | 4 | 5 | 6 | 7 |
| 8 | 9 | 10 | 11 | 12 | 13 | 14 |
| 15 | 16 | 17 | 18 | 19 | 20 | 21 |
| 22 | 23 | 24 | 25 | 26 | 27 | 28 |
| Day | Image | Event | Description |
| --- | --- | --- | --- |
| Tuesday, Day 23 | | Winter Solstice | A festival where all townsfolks gather around a hot pot in Central Plaza and toss food ingredients to make it spicy and delicious. |
Characters without birthdays
Edit