The Civil Furnace is a crafting station that processes anything up to iron ore. Each item takes a certain amount of time to process, provided that the Civil Furnace has fuel. The stone furnace uses wood for fuel, with 40 wood being the maximum capacity. Fuel can last up to 40 hours, after which the crafting station needs to be refueled.
Once fuel is depleted, the civil furnace will halt all production. Up to 25 of the same item can be crafted at one time and will display the total time to completely process all of the materials. Only one type of item can be crafted at any time, however, multiple Civil Furnace can be created. The Civil Furnace is more efficient than the Stone furnace and cuts processing time by 1/5th.
Description
Edit
A furnace that can be used to smelt anything up to iron ore.
Obtaining
Edit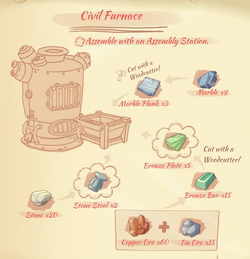 You would need to give 5

to

Petra at the Research Center and wait for 2 days before obtaining this diagram in the mail.
The Saving the Tree Farm Mission can also unlock the Civil Furnace.
The Civil Furnace can also be donated to the Museum as a Medium Assembled Item. When donated, it gives:


Reputation +25.