The Cooking Set is a crafting station that can combine various Cooking ingredients into new dishes.
Unlike the other crafting stations, you do not select the item to get a menu of what to create.
Instead you must add the ingredients directly from your hotbar, experimenting to find the right combination for a dish, or using recipes others have found such as those listed below.

To cook, put any ingredients on your hotbar, and press the button to select one. Stand next to the Cooking Set and face it, then left-click on the mouse to add it to the Cooking Set.
A time bar lasting around 20 in-game minutes will appear over the top of the pot, and you must add any other ingredients in the same way before the time runs out. Once the timer has finished, the pot bubbles for a few more seconds, then you can interact with the Cooking Set ("E" on the keyboard) to take out the completed dish.
Constructing a Cooking Set
Edit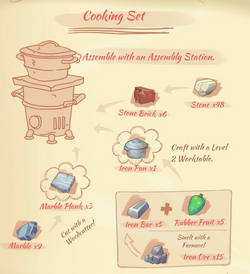 Cooking Sets can be created through the Assembly Station. You must first unlock the blueprint by researching 5 Data Discs at the Research Center. Due to the required materials, you must have your Worktable upgraded to level 2, and have a Civil Cutter and some sort of Furnace in order to craft the Cooking Set.
Current Known Recipes
Edit
The following recipes are known to be available from the Cooking Set:

This article is a
stub
. You can help
expand it
.
Ad blocker interference detected!
Wikia is a free-to-use site that makes money from advertising. We have a modified experience for viewers using ad blockers

Wikia is not accessible if you've made further modifications. Remove the custom ad blocker rule(s) and the page will load as expected.