The Cooking Set is a crafting station that can combine various Cooking ingredients into new dishes.
Unlike the other crafting stations, you do not select the item to get a menu of what to create.
Instead you must add the ingredients directly from your hotbar, experimenting to find the right combination for a dish, or using recipes others have found such as those listed below.

To cook, put any ingredients on your hotbar, and press the button to select one. Stand next to the Cooking Set and face it, then left-click on the mouse to add it to the Cooking Set.
A time bar lasting around 15 in-game minutes will appear over the top of the pot, and you must add any other ingredients in the same way before the time runs out. Once the timer has finished, the pot bubbles for a few more seconds, then you can interact with the Cooking Set ("E" on the keyboard) to take out the completed dish.
The Cooking Set can also be donated to the Museum as a Small Assembled Item. When donated,

Reputation +15.
Obtaining a Cooking Set
Edit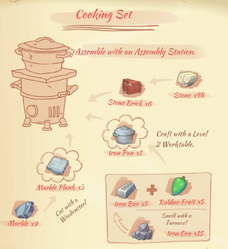 Cooking Sets can be created through the Assembly Station. You must first unlock the blueprint by researching 5

to

Petra at the Research Center and wait 3 days. Due to the required materials, you must have your Worktable upgraded to level 2, and have a Civil Cutter and some sort of Furnace in order to craft the Cooking Set.
Cooking Set
Recipe
Effect
Ingredients

Wasted Food
Restores 1 Stamina

1 Ingredient

Tasteless Broth
Restores 15 Stamina

1 Meat
or

1 Lobster Meat

1 Spicy Agent
or

1 Spice
or

1 Salt
or

1 Sugar

Meatballs and Vegetable Soup
Restores 30 HP

1 Meat

1 Vegetables

Delicious Roasted Ribs
Restores 3% Max Stamina

Restores 5 Stamina

2 Meat

1 Salt

1 Fruits

Roasted Pork with Honey
Restores 60 HP

2 Meat

1 Sugar

1 Fruits

Meat and Mushrooms Stew
Restores 50 HP

Restores 8 Stamina


1 Meat
or

1 Lobster Meat

1 Red Mushroom

1 Spicy Agent
or

1 Spice
or

1 Salt

Stewed Mushrooms
Restores 15% Max HP

Restores 5% Max Stamina

1 Red Mushroom

1 Vegetables

1 Spicy Agent
or

1 Spice
or

1 Salt
or

1 Sugar

Classic Spaghetti with Meat Sauce
Add Buff: Attack +10.00

Lasts 20.00 seconds

1 Flour

1 Meat
Red Mushroom
orSeaweed
orMilk
oregg

Spaghetti with Hot Sauce
Add Buff: Attack +10.00

Lasts 120.00 seconds

1 Flour

1 Meat
or

1 Lobster Meat

1 Spicy Agent

Supremely Spicy Spaghetti

2 Chili Pepper

1 Flour

1 Mustard

1 Lobster Meat

Fruit Tart
Add Buff: Critical Chance + 15%

Lasts 60.00 seconds

1 Egg

1 Milk

1 Fruits

Mushroom Crepe with Fruit Sauce
Restores 60 HP

Restores 10 Stamina

2 Flour

1 Apple

1 Red Mushroom

Pumpkin Shrimp Soup
Restores 40 Stamina

1 Pumpkin
(Not add more in Vegetables)

1 Lobster Meat


1 Vegetables

Pumpkin Steamed Rice
Restores 22 Stamina

1 Pumpkin

1 Different
Ingredient
(Not
Meat and
Lobster Meat)

1 Rice

Bamboo Papaya with Egg-on-Top
Restores 40 HP

Restores 5 Stamina

1 Bamboo Papaya

1 Egg

1 Salt

Seaweed Burrito
Add Buff: HP +2% per second

Lasts 30 seconds

1 Seaweed

1 Flour

1 Coriander

1 Snake Berry

Shrimp and Cheese on Rice
Restores 22% Max HP

2 Lobster Meat

1 Milk

1 Rice

1 Sugar

Blade Fish Mushroom Soup
Restores 50 Stamina

1 Blade Fish

1 Red Mushroom

1 Bamboo Papaya

1 Rice

Golden Radish Soup
Restores 20% Max Stamina

1 Golden Salmon

1 Ginger

1 Layered Carrot

1 Honey

Sweet Caviar
Restores 30% Max HP

Restores 10% of Max Stamina

2 Frog Fish

1 Sugar

1 Spice

Seafood Paella
Add Buff: HP +3% per second

Lasts 10.00 seconds

2 Rice

1 Fish

1 Bamboo Papaya

Crispy Salmon with Sauce
Add Buff:


Defense +20.00
Lasts 120.00 seconds

1 Golden Salmon

1 Rock Salt

1 Fruits

Smoked Fish Roll
Add Buff: Defense +35

Lasts 60 seconds


2 Catfish
or

2 Golden Salmon

1 Cumin

1 Salt

Bacon Fish Roll
Add Buff:


Defense +45.00
Lasts 120.00 seconds

2 Blade Fish

1 Meat

1 Rock Salt

1 Palm Jujube
**

Fish Porridge
Restores 5% Max Stamina

Restores 15 Stamina

1 Fish

1 Spicy Agent
or

1 Spice
or

1 Salt
or

1 Sugar
1 potato fruit

**

Seafood Noodles
Add Buff: HP +6.00 per second

Lasts 20.00 seconds

1 Fish

1 Flour

1 Spice
**

Fishhead Stewed in Soy Sauce
Add Buff: Defense +15.00

Lasts 30.00 seconds

1 Fish

1 Salt

1 Fruits
or

1 Sugar
** Bubblefish Soup
Add Buff: Critical Chance + 20%

Lasts 120.00 seconds

1 Bubblefish

1 Spice
or

1 Salt
or

1 Sugar


1 Vegetables
or

1 Red Mushroom
or

1 Seaweed
or

1 Milk
or

1 egg
**

Special Salmon Fried Rice
Add Buff: Stamina +1.00 per second

Lasts 35.00 seconds

1 Golden Salmon

1 Rice

1 Spice
**

Creamy Salmon Stew
Restores 18% Max HP

1 Golden Salmon

1 Milk

1 Spice
or

1 Salt
or

1 Sugar
**

Spicy Fish Soup
Restores 7% Max Stamina

Restores 20 Stamina


1 Banner Fish
or

1 Blade Fish

1 Salt

1 Spicy Agent

Bubblefish Stew

1 Bubblefish

1 Tea

1 Spicy Agent
or

1 Spice
or

1 Salt
or

1 Sugar

Seafood Stew Mix
Add Buff: Critical Chance +10%

Lasts 180.00 seconds

1 Fish

4 Different
Ingredient
(Not Sugar,
Salt and
Spicy Agent)

Spicy Stew Mix
Add Buff: Attack +10.00

Lasts 180.00 seconds


1 Spicy Agent

4 Different
Ingredient
(Not Sugar
and Salt)

Salty Stew Mix
Adds Buff: Restores 0.50 Stamina per second and 1 HP per second

Lasts 30 seconds

1 Salt

4 Different
Ingredient
(Not Sugar and Animal Fat)

Sweet Stew Mix
Add Buff: HP +1.00 per second

Lasts 120.00 seconds

1 Sugar

4 Different
Ingredient