The Cooking Set is a crafting station that can combine various Cooking ingredients into new dishes. Unlike the other crafting stations, you do not select the item to get a menu of what to create. Instead you must add the ingredients directly from your hotbar, experimenting to find the right combination for a dish, or using recipes others have found such as those listed below. The order of the recipe does not matter, but it must have all the correct ingredients.
To cook, put any ingredients on your hotbar, and press the button to select one. Stand next to the Cooking Set and face it, then left-click on the mouse to add it to the Cooking Set. A time bar lasting around 15 in-game minutes will appear over the top of the pot, and you must add any other ingredients in the same way before the time runs out. Once the timer has finished, the pot bubbles for a few more seconds, then you can interact with the Cooking Set ("E" on the keyboard) to take out the completed dish.
Once you have cooked a recipe for the first time you will be able to right-click on the cooking pot and view that recipe and others you have cooked on the recipe book. You can left-click on a recipe to view the ingredients needed for the recipe or right click to favorite a recipe. Recipes that are favorites will show on a separate tab on the left side named "My Favorites" these are available to be cooked by Ack once he starts helping at your workshop.
Description
Edit
A tool to make food, needed in kitchens everywhere.
Obtaining
Edit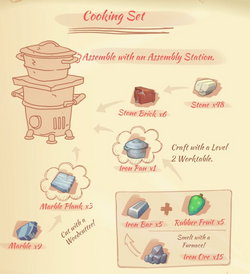 Cooking Sets can be created through the Assembly Station.
You would need to give 5

to

Petra at the Research Center and wait for 3 days before obtaining this diagram in the mail.
The Cooking Set can also be donated to the Museum as a Small Assembled Item. When donated, it gives:


Reputation +15.