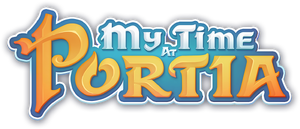 Welcome to Portia Wiki! Portia Wiki is a collaborative source based on the upcoming simulation RPG My Time at Portia, developed by Pathea Games and published by Team17 Digital Limited. We are currently editing 613 articles since July 2017, and we need your help!
Disclaimer: This wiki contains spoilers. Additionally, all information are subjected to change over time and may or may not be considered in the final version.
Portia Wiki needs your help!
With the game changing between every patch, we need your help to update and add new articles. All users are free to contribute and add as much information as possible.
For a list of projects, see our Projects portal.

News
13 February 2018
Greetings, Portians!
Just last week we teased the first content update for My Time At Portia, dubbed the Winter Festival update, with a release date of early March. Surprise! We're actually releasing some of this update today!
The new update is available right now, and brings a lot of new content, adjustments and fixes to the game. Bear in mind that this is not the full Winter Festival update. There's lots more to come in March!
Besides, we'll have the Spring Festival from February 14th to 22th, so please forgive us if you get the late replies/feedbacks from any of our forums or email.
Anyway, what will you be able to experience in My Time At Portia starting today? Check the full patch notes below!
New content
Six new missions.
The first Winter Solstice mini-game – Hotpot!
New house decoration items.
Wallpapers and floorings now available in the A & G Construction store.
Players may now change the wallpaper and flooring of their house.
A new story quest to use Ack as a helper around the workshop.
One additional hairstyle for both male and female characters.
A recovery machine in the Research Centre to recover relics by using data discs.
New character! Siwa, and his house in the desert.
New toy! The Bubble Wand.
Other additions
Added level 20 equipment models.
Added the ability for players to get a discount on acupuncture when you have high relationship points with Phyllis.
Added the ability for players to get a discount in store when you have high relationship points with Gust.
Added the ability for players to increase critical damage values when you have high relationship points with Arlo.
Added an in-game guide that is triggered the first time players find relic pieces.
Added the ability to add more than one piece of raw material into the fire powered generator at the same time.
Added the ability to interact with Mint, who will leave after the player fixes the bridge. He will be back, though!
Added feedback from the dummy when Arlo takes the fighting exercise with him.
Added one additional background music track in Hazardous Ruins.
Added the ability for players to use consumable items in the shortcut bar by pressing the numeric keys.
Added the Holiday Guide.
Added a DeeDee stop near the Portia Bridge.
Ability to interact with the slot machines using a controller.
Added Chinese voice acting for Remington.
Adjustments
Adjusted the drop rate of relic pieces.
Adjusted the reaction of NPCs after interacting with them (they'll pause before they turn to leave).
Optimized attack animations
An overloaded fire powered generator will no longer power off, but reduce the production speed instead.
Concealed NPC name and all mission-related icons when they're sleeping.
Changed the walking path of Emily when she has items that she helped collect; she will wander around in front of the house.
Changed the frequency of NPCs who travel to Portia town.
Changed the available time period for Day of the Bright Sun to 10 AM – 2 PM.
Players can now date or otherwise interact with Ginger near her house.
Removed all Madcrabs around the rest stop.
Adjusted the damage output of the Rat King's continuous attack.
Adjusted the distance of Chemical Dropout's continuous attack.
The desert will now be uncovered after building the bridge.
Adjusted McDonald's attack.
Adjusted how relationship points are calculated when gifting items during festivals and birthdays.
The game will now properly check the ability to create a save file upon starting a new game.
Adjusted the visible border of the Abandoned Ruins.
Befriended NPCs will now attend wedding ceremonies.
Adjusted rain visuals for low end hardware configurations.
The player's headwear (if equipped) will automatically be hidden when getting a haircut at the Barber shop.
Fixes
Players can no longer be killed by enemies during conversations.
Fish should no longer starve to death when fed properly.
Fixed the crash caused by the 'The Bassanio Lift' mission.
Fixed the conversation error with Addit after the 'Saving the Tree Farm' mission.
Fixed an issue related to the 'Bassanio Lift' mission.
Fixed an issue where followers would be pulled into sparring.
Fixed some bugs related to the Day of Bright Sun.
Fixed a potential issue when the player is holding three newly caught fish.
Fixed an issue where players were unable to properly move around the Barber Shop.
Fixed textures in Hazardous Ruins level 4 rooms.
Fixed issues relating to Hazardous Ruins.
Fixed an issue that could occur when meeting a new NPC for the first time.
Fixed an issue that could occur when entering the Abandoned Ruins.
Fixed an issue that could prevent loading of save files.
Fixed an issue that might prevent players from initiating the fishing mini-game.
Fixed an issue with the display of grass.
Fixed issues with certain trees around Dr. Xu's clinic.
Fixed an issue related to the Portia Bridge mission.
Fixed an issue related to fishing thread toughness skill not functioning properly.
Fixed an issue related to written letters appearing incorrectly.
As always, should you encounter any issues, please report these in our Report a Problem forum, and for any general discussions, head on over to the discussions forum. Be sure to join the conversation on Discord, Twitter or Facebook as well.
We want to thank you for your continued support for My Time At Portia, and can't wait to hear what you think of the update!

System requirements
Minimum
Recommended

OS: Win 7+
Processor: i3
Memory: 6 GB RAM
Graphics: ATI 5770, GTX 460
DirectX: Version 10
Storage: 5 GB available space


OS: Win 10
Processor: i7
Memory: 8 GB RAM
Graphics: GTX960+
DirectX: Version 11
Storage: 10 GB available space


Helping out
Want to help out Portia Wiki? There are plenty of tasks to do.
| Before you start... | Adding some content... |
| --- | --- |
| | |
Alpha 4.0.82558
13 February 2018
• • • • •
[ Changelist ]

Twitter

Poll
Did you purchase the Early Access?

Affiliates
Portia Wiki is not affiliated with Pathea Games. All content and/or images are copyright to its respective owner(s).