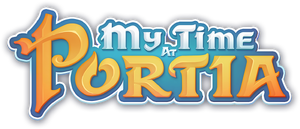 Welcome to Portia Wiki! Portia Wiki is a collaborative source based on the upcoming simulation RPG My Time at Portia, developed by Pathea Games and published by Team17 Digital Limited. We are currently editing 1,281 articles since July 2017, and we need your help!
Disclaimer: This wiki contains spoilers. Additionally, all information are subjected to change over time and may or may not be considered in the final version.

News
20 September 2018
Hey there Portians!
Update 9.0 is here, bringing with it new content, bug fixes and more!
The first thing you should notice with the new build is our work on optimization. All players should see an improvement in their frame rate and how the game runs on their system.
This is great because it means you'll get an even smoother experience when playing the new content we've added!
The reason you've been waiting slightly longer for this update is because we've been working on a lot of new content to bring to Portia:
A brand-new area to explore, including new buildings.
New story missions
New side missions
New monsters
New dungeons
New characters
New items/weapons
A Martial Arts Tournament
Updates to existing events such as Land Run and the Day of Memories Festival.
Even more activities!
The Portia Land Run
As many of you know, the Portia Land Run occurs every autumn in Portia following its addition in the previous update. Following its release, we felt that the Land Run had its limitations due to the player only being available to race against the clock, rather than other NPCs. But not anymore! We've added in racing against three other NPCs to make the event a lot more competitive. The original time attack race mode is still playable for Portians whose goal is purely to get the best time.
During the multi-character race, racers will be able to use items to increase their speed and add to stamina. May the best Portian win!
Day of Memories Tweak
If you've already tried the Day of Memories Festival, then you'll remember that the event asked the player to go around the city of Portia collecting Ghost Badges. This time, we've added in a few more interesting gameplay mechanics.
New Ghost Badges will appear in the city every 30 seconds, they'll be marked on the map for the player and NPCs to see!
We have added 'ghosts' to the game, they'll appear randomly to scare folks, if you don't dodge them, you'll be stunned for a bit. Spooky!
Everyone will be armed with the Scare Soaker, a gun that can stun people for 3 seconds! You can use it, but so can NPCs. This should make things a little more interesting!
We know we're a little late with this build and we're sorry to have kept you waiting, but it's here, and we hope you enjoy it!
There's a lot more content we haven't spoken about for you to discover in this update and we can't wait to hear what you think of it!
Be sure to let us know what you think of the new content and tweaks here on the Steam forum. If you encounter a bug, please send us an email, or leave us a post on the 'Report a Problem' sub-forum. Happy gaming everyone!

Bulletin
Projects

Verify information (ongoing)

Project: Verify is validating information added by users and making sure they are legitimate and up-to-date. With each patch comes with new information and outdated information. It is our job, as editors, to update data.

Gifts (finished)

Project: Gifts is now finished. We can now easily extract new gift information with each coming update. The complete and up to date list can be found in the Gifting article.

Wiki News

30 September 2018

7 September 2018

16 July 2018

18 March 2018

System requirements
Minimum
Recommended

OS: Win 7+
Processor: i3
Memory: 6 GB RAM
Graphics: ATI 5770, GTX 460
DirectX: Version 10
Storage: 5 GB available space


OS: Win 10
Processor: i7
Memory: 8 GB RAM
Graphics: GTX960+
DirectX: Version 11
Storage: 10 GB available space


Helping out
Want to help out Portia Wiki? There are plenty of tasks to do.
| Before you start... | Adding some content... |
| --- | --- |
| | |
Alpha 9.0113826
29 September 2018
• • • • •
[ Changelist ]

Twitter

Poll
Who is your favorite bachelorette?

Affiliates
Portia Wiki is not affiliated with Pathea Games. All content and/or images are copyright to its respective owner(s).