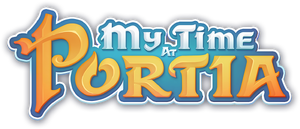 Welcome to Portia Wiki! Portia Wiki is a collaborative source based on the upcoming simulation RPG My Time at Portia, developed by Pathea Games and published by Team17 Digital Limited. We are currently editing 1,049 articles since July 2017, and we need your help!
Disclaimer: This wiki contains spoilers. Additionally, all information are subjected to change over time and may or may not be considered in the final version.

News
22 March 2018
After a month of reading through all the submissions (around 300), every word and every idea. We've come down to eight freelance writers that we'll work with to help us expand the story and write all the character missions and dialogues. They are Mu Ren GQ., Lucy S., Aubrey A., Stephanie M., Louise S., Rhy, Chris M., and Lucy Ann J. Congrats!
To everyone who submitted, thank you all so much! There were so many interesting ideas and takes on the characters and the world. We'll probably end up using some of the ideas, and we'll be sure to contact the original writers for their permissions.

Bulletin
Projects

Verify information (ongoing)

Project: Verify is validating information added by users and making sure they are legitimate and up-to-date. With each patch comes with new information and outdated information. It is our job, as editors, to update data.

Gifts (ongoing)

Project: Gifts is adding all the possible gifts for each NPC that reacts non-neutrally, by providing the item and its value into the data table.

Wiki News

18 March 2018

We're looking to hire more content moderators, discussion moderators, and administrators. Meet the requirements set forth on this page and apply for any open position.

System requirements
Minimum
Recommended

OS: Win 7+
Processor: i3
Memory: 6 GB RAM
Graphics: ATI 5770, GTX 460
DirectX: Version 10
Storage: 5 GB available space


OS: Win 10
Processor: i7
Memory: 8 GB RAM
Graphics: GTX960+
DirectX: Version 11
Storage: 10 GB available space


Helping out
Want to help out Portia Wiki? There are plenty of tasks to do.
| Before you start... | Adding some content... |
| --- | --- |
| | |
Alpha 7.0100427
19 June 2018
• • • • •
[ Changelist ]

Twitter

Poll
Which part of the April 2018 update do you like?

Affiliates
Portia Wiki is not affiliated with Pathea Games. All content and/or images are copyright to its respective owner(s).