The research center can be found just north of the Central Plaza, on the east side of town. You can typically find
Merlin
and
Petra
here during the day. Hours are 09:00 - 18:0.
The Recovery Machine used for assembling Relic Pieces into complete relics is located inside the research center.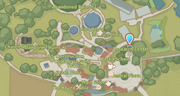 Recovery Machine
Edit
Disc Recovery
Edit
Talking with Petra you can turn in Data Disc's in four different groupings. These are researched then turned into recipes for your work book.
From Research
Data Disc
Blueprint
Materials

Data Disc


3 Data Disc

Dee-dee Stop

5 Hardwood Plank

4 Bronze Pipe

4 Bronze Plate

10 Fiber Cloth

Loudspeaker

9 Copper Plate

2 Simple Circuits

2 Copper Coil

4 Hardwood Plank

Data Disc


5 Data Disc

Cooking Set

6 Stone Brick

1 Iron Pan

3 Marble Plank

Boombox

8 Bronze Plate

1 Cassette Box

2 Leather Horn

2 Copper Coil

2 Small Silicon Chip

Fish Display

2 Marble

4 Glass

4 Hardwood Plank

Blender

6 Copper Bar

2 Simple Circuits

2 Grinding Blade

Data Disc


6 Data Disc

Civil Furnace

3 Marble Plank

2 Bronze Plate

2 Stone Stool

Water Engine

5 Old Parts

2 Bearing

2 Small Engine

4 Steel Plate

Water Storage

15 Ironwood

8 Copper Pipe

15 Iron Bar

Water Wheel

50 Hardwood

12 Large Iron Bucket

30 Carbon Steel Bar

20 Old Parts

Data Disc


10 Data Disc

Industrial Furnace


Industrial Furnace

Marble Plank


5 Marble Plank

Steel Plate


5 Steel Plate

Industrial Core


2 Industrial Core

Industrial Cutter


Industrial Cutter

Simple Circuits


4 Simple Circuits

Carbon Steel Bar


10 Carbon Steel Bar

Grinding Saw


2 Grinding Saw

Advanced Skiver


Advanced Skiver

Steel Plate


4 Steel Plate

Simple Circuits


3 Simple Circuits

Bronze Pipe


2 Bronze Pipe

Comprehensive Grinder


Comprehensive Grinder

Industrial Furnace


1 Industrial Furnace


Grinder


1 Grinder

Steel Shell


2 Steel Shell

Steel Plate


4 Steel Plate

Comprehensive Cutter


Comprehensive Cutter

Industrial Furnace


1 Industrial Furnace


Industrial Cutter


1 Industrial Cutter

Steel Shell


2 Steel Shell

Steel Plate


4 Steel Plate

Research Notes


Research Notes
-
-
-

Data Disc


20 Data Disc

Fire Powered Generator


Fire Powered Generator

Civil Furnace


1 Civil Furnace


Industrial Engine


1 Industrial Engine

Steel Plate


10 Steel Plate

Copper Coil


5 Copper Coil

Electric Furnace


Electric Furnace

Charcoal


8 Charcoal


Steel Plate


3 Steel Plate

Industrial Core


2 Industrial Core


Hardened Clay


4 Hardened Clay

Steel Shell


3 Steel Shell