The Research Center can be found just north of the Central Plaza, on the East side of town. You can typically find
Merlin
and
Petra
here during the day. Hours are 09:00 - 18:00.
The Recovery Machine used for assembling Relic Pieces into complete relics is located inside the Research Center.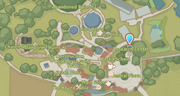 Disc Recovery
Edit
Talking with Petra you can turn in Data Discs in four different groupings. These are researched then turned into recipes for your work book.
The recipes researched depend on the number of Data Discs handed in, so handing in 10 Data Discs will not research 5-Disc recipes (see below).
Handing in more data discs or certain components related to the current research will speed up the research process and let the player receive the results faster.