The Round Table is a medieval-themed restaurant located on Main Street and Peach Plaza of Portia. The restaurant is owned by Django, while Sonia is the restaurant waitress. Townsfolk can dine inside the restaurant and order various types of foods. A food store is also available outside of the restaurant, which sells bread, juices, and floral. Django brews all beverages and is known as the brew master.
The Round Table is one of the locations for play dates. The date comprises of a dinner, where the dating partner requests several types of foods to order. All meals are paid by the player.
Restaurant and food store hours are from 7:00 to 22:00.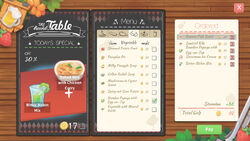 The menu consists of six courses: appetizers, main course, meat, vegetable, dessert, and drinks. One of the most expensive meals is the Portia Hot Pot, costing 100 gols.
Occasionally, some meals are on special, which can be discounted up to 30% off.
The restaurant menu is currently only available during play dates. When dining alone, the restaurant serves three dishes:
The Kingly Salad (5 Gols for 20 stamina)
The Lancelot (15 Gols for 40 stamina)
Merlin's Cocktail Shrimp (40 Gols for 80 stamina)
Appetizer
Food
Cost

Fruit Salad
18

Vegetable Salad
10

Banner Fish Salad
26

Caviar
15

Pickles
6

Pickled Black Fungus
5
Main Course
Food
Cost

Spaghetti with Hot Sauce
10

Bamboo Papaya and Seafood with Rice
25

Pumpkin Steamed Rice
20

Baked Bread
8

Classic Spaghetti with Meat Sauce
12

Baked Rice with Coconut Chicken
18

Baked Rice with Chicken Curry
18

Portia Hot Pot
100
Meat
Food
Cost

BBQ Grilled Meat
24

Smoked Meat
28

Well Seasoned Ribs
52

Sauteed Ribs
36

Django's Braised Meat
40

Meidi's Fish Stew
28

Sauteed Sweet and Sour Tenderloin
30
Vegetable
Food
Cost

Steamed Potato Fruit
15

Pumpkin Pie
24

Milky Pineapple Soup
20

Golden Radish Soup
30

Mushrooms in Oyster Sauce
12

Spicy and Sour Potato
10

Bamboo Papaya with Egg-on-Top
12

Vegetable with Minced Garlic
10
Dessert
Food
Cost

Snowman Ice Cream
12

Colorful Ice Cream
18

Black Forest Cake
10

Vanilla Pudding
5

Chocolate Milkshake
12

Apple Pie
10

Crispy Pancake
10

Pinecock Egg Tart
5
Food Store
Edit
Main article: Food Store
The food store is located outside of The Round Table. It mainly sells juices and soda.
Food Store
Item
Cost
Inventory
Description

Apricot Juice
48
3
Very fresh, a bit sour, makes a good side drink.

Restores 10 stamina

Cheap Soda
33
10
Carbonated water with added sugar, tastes cheap.

Add Buff:
Attack +10.00
Lasts 200.00 seconds

Lemon Juice
47
10
Squeezed from fresh oranges.

Add Buff:
Defense +10.00
Lasts 200.00 seconds

Porcelain Plate
50
5
A very plain plate used to serve food.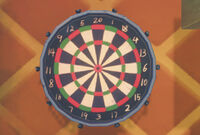 Main article: Darts
A dartboard is located near the bar and can be played for free food items. There are five rounds to play, each with one dart to throw. After five rounds, points are calculated, and a point chart displays the amount of triple score, double score, and the average score the player earned.