A chest made of wood, it has room for lots of items. (20)
Obtaining
Edit
Can be crafted at the Worktable LV1 under the Furniture tab.
Furniture
Item
Level
Materials

Wooden Storage
1

20 Wood
Can also be purchased at Best Brother ran by Paulie.
Best Brother
Item
Amount
Price

Wooden Storage
1
63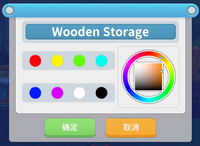 A Wooden Storage can be placed around the Workshop and the player can store Items in it.
Since the Alpha 3.5x, it is possible to customize the name and color of a storage, using the

right click on it.
The Wooden Storage is also requested by several NPC's in D level missions.
What is better than Wooden Storage is Metal Storage.

This article is a
stub
. You can help
expand it
.